Farm to Fork Al Fresco Grant Program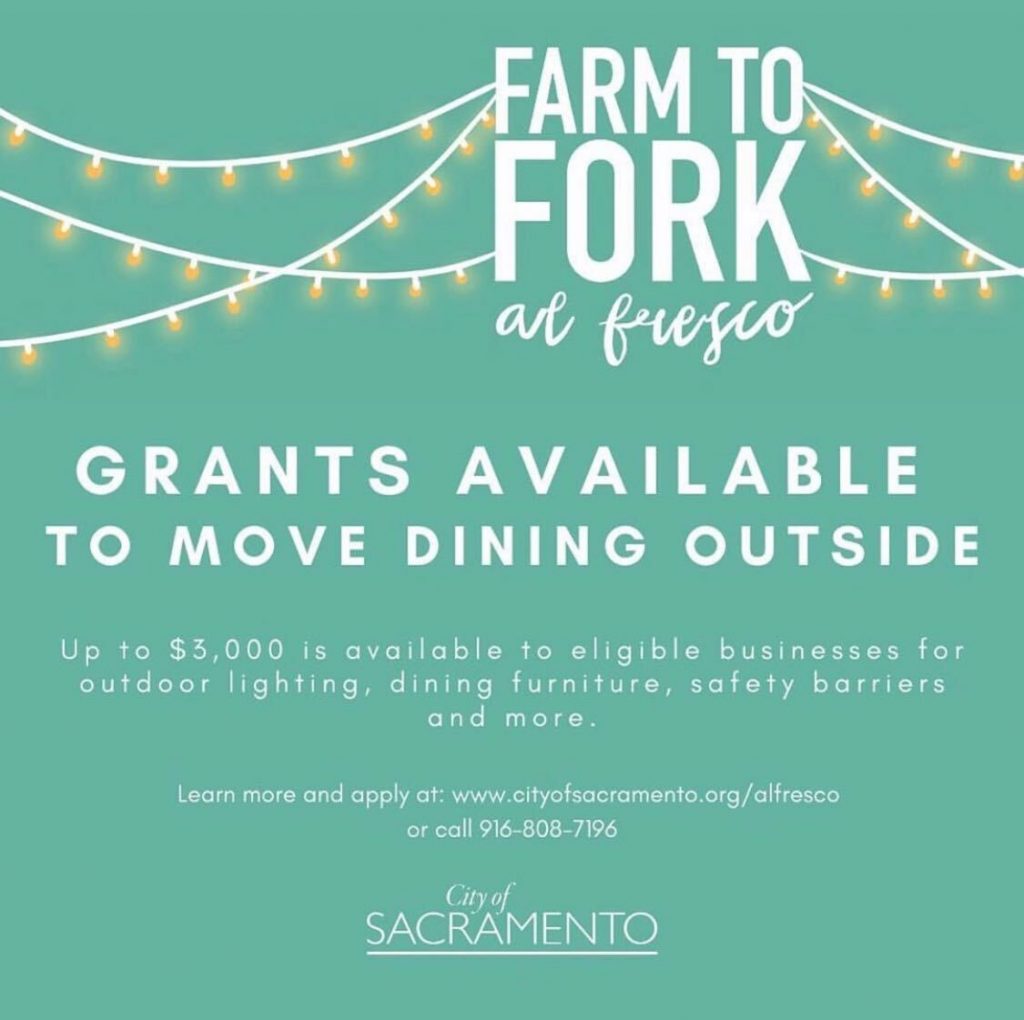 To mitigate the impact of COVID-19 on Sacramento restaurants and their employees, the City of Sacramento will assist restaurants in temporarily adding or expand their outside dining options to accommodate COVID-19 related health standards.  This will assist with business reopening and allow patrons to enjoy Sacramento's dining options safely under Sacramento's summer skies.
Program Overview
Restaurants may provide new or expanded dining facilities in the following locations:

In private parking lots adjacent to the restaurant
On sidewalks or public on-street parking spaces in front of the restaurant

Dining facilities provided in private parking lots do not require City permits
Dining facilities provided on sidewalks or public on-street parking spaces require an Encroachment Permit, issued by the Department of Public Works.
Property Business Improvement District (PBID) and Chambers of Commerce (Chambers) are encouraged to coordinate and submit a single application or groups of applications for participating restaurants within their jurisdiction

The City will offset some of the administrative costs incurred by PBIDs and Chambers that coordinate multiple applications into one permit for use of public sidewalks/streets by providing a 5% administrative reimbursement based on the total amount of financial assistance provided to the organization's participating restaurants

All new or expanded outdoor dining facilities must comply with applicable Sacramento County Environmental Health, Alcohol and Beverage Control (ABC), and California Department of Public Health (CDPH) requirements and regulations.
Eligibility
Independently or locally owned franchise restaurant within the City of Sacramento
Current City of Sacramento Business Operations Tax Certificate (BOTC) and in operation as of May 26, 2020.
Funding
The City will provide up to $3,000 per participating restaurant for expenses related to the new or expanded outdoor dining service.
Grant funds can be used to cover any physical improvements that are needed for outside dining including barricades, lighting, and dining furnishings.
Funding will be on a reimbursement basis and will require execution of a Grant Agreement.
For questions on the Farm to Fork al Fresco Program email us at alfresco@cityofsacramento.org or call our Small Business Hotline at (916) 808-7196.