The East Sac Chamber has monthly luncheons, mixers, ribbon cuttings, and many other fun events. We encourage you to stay up-to-date on our events and invite you to come and connect with us!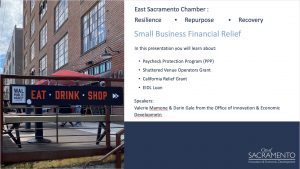 For those of you that missed the Small Business Financial Relief Presentation during our February Virtual Meeting we have provided…
Read More


Free Propane Patio Heaters for Small Businesses required to operate outside The City of Sacramento has acquired nearly 400 tower…
Read More
Explore all the great businesses that East Sacramento has to offer. Including food, drink, shopping, and professional/medical services.
Member luncheons (11:45am - 1:30pm) and breakfasts (8:30am - 10:30am) are scheduled on the 2nd Wednesday of every month and are held at
Clunie Community Center, 601 Alhambra Blvd. (2nd floor).